Houzz Award Winner 2019 Architect Your Home are very pleased to be winners of the Houzz Best Design Award 2019.
Once again the quality of design and service we provide to homeowners when they are embarking upon a home renovation or extension project has been recognised, take a look at some of our amazing projects.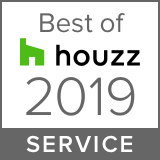 For more information on how Architect Your Home can help with your renovation project, fill in our contact us form and we'll be in touch soon.
Don't forget to connect with us on social media: Facebook, Twitter, Pinterest and Houzz.